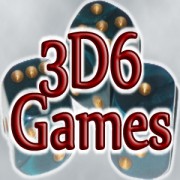 Crowdfunding on Patreon is a new way for people to get monthly support to pursue their passions and eventually quit their day jobs.
Luray, VA, December 5, 2015 (Newswire.com) - 3D6 Games was founded in March, 2015 and has published 10 games to date. Unlike other new and upcoming game design companies, 3D6 Games decide the best way to get funding was to launch a crowdfunding program on Patreon, which is similar to KickStarter and IndieGoGo, but works on a monthly subscription basis to get funding for regularly produced videos about its games and to build a community of fans of its games. In less than a week, 3D6 Games has reached its first milestone goal.
The reward program offers a rewards program that provides value for as little as $1 per month and includes additional rewards based on the patron support level. These include exclusive patron only posts, Twitter exchanges, at-cost links to games, monsters assigned to patrons, email services and sponsor shout outs.
There is a growing industry trend trend for tabletop gaming as people find the face-to-face experience much more rewarding than and an escape from being buried in technology all day. This trend is well documented in articles by TimesFreePress.com, The New York Times, and Boston Globe.
Most of the games include karma crystals, cubes and/or gems and some of the funds from the crowdfunding effort go toward building the KarmaCrystals.net portal/website. Plans include custom applications to provide the game community with useful tools to share and exchange information on game play and strategies used with the games.
3D6 Games has partnered with The Game Crafter (TGC) as their exclusive "Made In The USA" game manufacturer and fulfillment center. TGC also provides tools for prototyping games.
You can track 3D6 Games progress on Patreon.
Share: