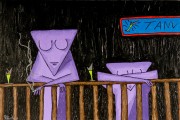 Over 200 works of art from Gilbert Engle have been released on NewJazz.net
Luray, VA, February 9, 2016 (Newswire.com) - With decades of artwork, including paintings and other digital images, Gilbert Engle has released his works of art on the NewJazz.Net web portal. The art features a simple style and bold images that create instant and powerful emotions and impressions.
Art is unique because it speaks to each of us on a personal level. Whatever a work of art might mean to you, it won't necessarily mean the same thing to any other person. Any interpretation could be completely different than the meaning intended by the artist. That being said, art also has plenty of stories to tell. These stories can accrue over decades, even centuries, and always be there for those willing to look closely.
"I tend to get a thought late at night and mark it out on a piece of paper or napkin and then build on that idea throughout the week" says Gilbert.

Gilbert Engle, Artist
One of Gilbert's more controversial paintings is the "purple TriMen on the town." One art enthusiast equated the meaning of this painting to the celebration of life taken a bit too far, while another mentioned the more abstract idea of escapism. Several art enthusiasts have related remembrances of the movie Barfly, which features Mickey Rorke as a the cantankerous fist fighter that has it in for his regular bartender at the Barfly's favorite dive.
Some of his works, like "stepping," bring a more day-to-day interpretation to an idea. Many other works are completely abstract like the work "Jack attack" and the works from the more recent 2014 collection. These abstract paintings tend to focus on shapes and color combinations instead of a bold singular idea.
If you would like to view Gilbert's growing collection of art, including 80 paintings and 150 creative digital images completed so far, visit NewJazz.net today
Share: