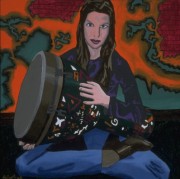 Over 600 music compositions and recordings available - free mp3 downloads.
Luray, VA, January 26, 2016 (Newswire.com) - Prolific composer, producer and recording artist Gilbert Engle is releasing a new Dance album featuring a unique approach. Most dance music is programmed and rarely features any real performances, but Gilbert has focused on live performances to capture the "live" feel like the art of dance itself. This radical approach to the modern dance genre of music has produced a powerful addition to the large collection of NewJazz.net music already available.
The music features performances by Gilbert and Sean Peck on drums. Sean performs regularly in the mid-Atlantic area with Johnny Artist, The Charles Wright Trio and others and is one of the top studio musicians in the area. His performances on this album give it a live and slightly jazz flavored feel. Gilbert is featured on all the other instruments and gives a highly improvisational approach to his unique style of dance music.
"I wanted to capture live performances and come up with something really new and radical."

Gilbert Engle, Composer/Producer
This album represents a sequel to his 2014 album also available on the NewJazz.net web portal, which features the same line up. This earlier album is also features live performances of modern dance music. When asked about his inspiration for the new album, Gilbert said, "I wanted to capture live performances and come up with something really new and radical." As of this press release, six songs are completed and another six are in the works.
The currently released and soon to be released dance recordings from Gilbert Engle's new album entitled 2016 Dance is available now on NewJazz.net and the album is expected to be completed in February, 2016.
Gilbert's 2014 dance album is also available on NewJazz.net and is entitled 2014 Dance.
Track the prolific offerings of Gilbert Engle on NewJazz.net and get free MP3 downloads of over 600 recordings.
Share: