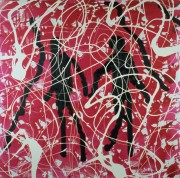 With over 600 music compositions and recordings available on NewJazz.net, Gilbert Engle's new Dance Album has been added to the Baboom website.
Luray, VA, March 4, 2016 (Newswire.com) - As Gilbert Engle adds music to his prolific collection of works on newjazz.net, his new dance album has been added to the new streaming site that has taken the music industry by storm. Baboom is a new web portal designed to blast the current music industry model giving artists the power to control their careers.
Gilbert's dance album is the culmination of music featuring performances by Gilbert and Sean Peck on drums. Sean performs regularly in the mid-Atlantic area with Johnny Artist, The Charles Wright Trio and others and is one of the top studio musicians in the area. Sean's performances give the music a live and slightly jazz flavored feel. Gilbert's performances are featured on all the other instruments and give the music its improvisational sound to this unique style of dance music.
the most interesting thing about Baboom is the way it addresses some of the problems with the streaming market we've discussed here in recent weeks. Its "fair trade streaming" model works in a fundamentally different way to Spotify et al.

Russel Brown, Public Address blogger
This album is a sequel to Gilbert's 2014 album available on the NewJazz.net web portal, and features the same line up. Its live performances of modern dance music have a similar live feel, but a very different and attractive set of songs. You can now listen to the music stream of the new album on Baboom.
Explore Gilbert's music on Baboom and NewJazz.net any time.
Share: